Inform, Welcome & Remind Customers to Return
Each maintenance plan comes equipped with dealer branded marketing materials:
Welcome Kits, Point-of-Sale Laminates, F&I Upgrade Laminates and Service and Loyalty Reminders.
You customize, we print and ship.
We Do the Heavy Lifting
You have enough to do, so we'll take your ideas and turn them into effective marketing. We kick-start your efforts with easily-branded materials that attract attention and help drive retention.
You Customize
Add your logo, colors, maintenance options… you can even name it whatever you want.
We Print
Welcome Kits, Point-of-Sale Laminates, F&I Upgrade Laminates and Service Reminders are printed in-house at no additional cost.
We Ship
Customer communication materials are mailed directly to customers as if they were sent from your dealership.
Online Claims & Fraud Protection
Post Claims in 3 Easy Steps
A Dashboard for Every Department
Maintenance Program Software provides dashboards that are tailored for each department to simplify workflows and standardize dealership retention processes.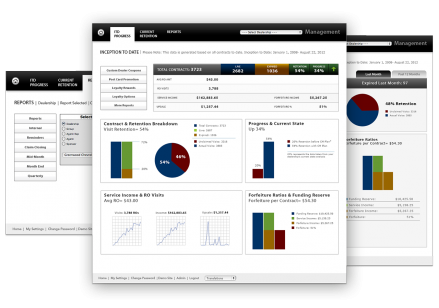 Management
The Management Dashboard gives you access to important data, tools and functionality to help you make more informed decisions and better understand the various drivers that affect your performance — and ultimately your bottom line.
Inception-To-Date Progress
Contract and Retention Growth
Live vs. Expired Contracts
Service Income and RO Visits
Forfeiture and Funding Reserve Ratios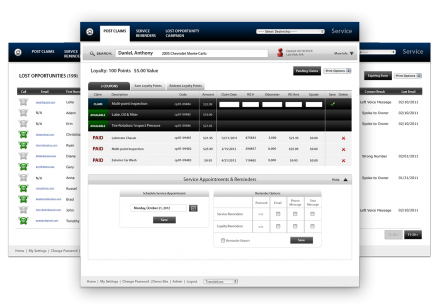 Service Department
The Service Dashboard goes beyond just posting claims, it's a one-stop-shop for tracking customers who haven't returned for service so you can invite them back.
Post Claims Online
Search Customers by Name, VIN and Email
Send Service Reminders
Transform Lost Opportunities™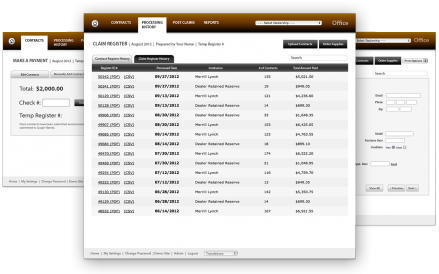 Office Department
The Office Dashboard allows you to tackle all your tasks online. You can enter contracts manually or choose our DMS integration option and we'll do the work for you.
Enter, Edit and Submit Contracts
Get Paid and Make Payments
Post Missed Claims
Access Reports on-the-fly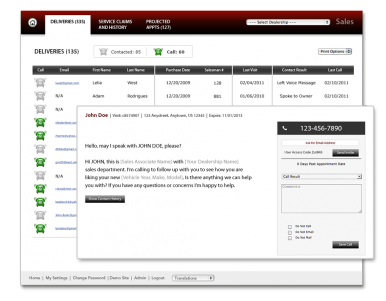 Sales Department
The Sales Dashboard tracks and organizes recent vehicle deliveries along with customer follow-up information so you can connect with customers after delivery and focus on building the relationship.
Follow-up with customers and record feedback
View Service History
Manage Upcoming Service Appointments
The Lost Opportunity Transformer™
Recuperate Lost Opportunity dollars in your service department by targeting customers who haven't returned for service and drive them back with specialized incentives.
Lost Opportunity reports are generated each month to provide feedback on how much money was saved each month as a result of the Lost Opportunity Transformer™.